All jewellery charity shopped.
Hello again!
I've been pleasantly surprised at how lovely the weather has been since our return from Ireland. It's chilly at night and first thing in the morning, but I'm still wearing my summer wardrobe...just.
This top is by Nomads and was bought for 3 euros in the Animals in Need charity shop in Donegal town. Martina cut my hair in Ireland and cut it very short, so it's just beginning to grow back a bit now.
Everything charity shopped; lace jacket Barnardo's 2.00; white Next jeans, can't remember. Shoes; 3 euros in Killybegs charity shop about 3 or 4 years ago. All jewellery charity shopped.
School runs, charity shop volunteering and food bank volunteering are all back in the weekly routine. I did a fair amount of child minding the first week I was back as it was my daughter's 41st birthday that week; (oh, that makes me feel so old writing that) and she celebrated in style! A weekend in London, plus a day out in London, a meal with friends on her birthday and I took her to see Downton Abbey at the cinema and out for a meal, as well. We both really enjoyed Downton Abbey - we got into it when we spent May half term in Cornwall last year and watched a DVD of the first series; then we we were hooked and had to watch the entire series over the next few months!
Another Ireland top. This one is by George (Asda) and was 2.00 euros; I love the sleeves and find I wear it a lot. White goes with everything and I love the pattern. Linen trousers 1.00 rail somewhere and shoes as above.
Cardigan by F&F; for the chilly evenings; charity shopped for £2.00 in my Barnardo's.
All jewellery charity shopped; these earrings were picked up in Sligo town for 1 euro.
I got back into walking, too. I walked with my group in Woburn Sands on the first Wednesday I was back and a really lovely 7 mile walk A lot of climbing into and out of woods. As the name suggests it's very close to Woburn Abbey and Safari Park; but a nice village with its public loo in a Shepherd's Hut! I didn't take any photos - too busy catching up with everyone's news.
On Thursday I walked 9 miles. I wanted to recce the walk I'm leading in October; starting from a different place, but realised after 4 miles it would be too long; so just walked an old route back to the start which came to 9 miles in total!
I'm wearing one of the three jackets I bought in Ireland This one was 5 euros and is by
The top underneath came from the 25p basket in my Barnardo's as did the scarf. All jewellery charity shopped.
These were charity shopped Next jeans I was going to donate but chopped the bottoms off and frayed them. Shoes from Sainsbury's earlier this year.
Everything charity shopped except shoes; on line retail.
Trousers are by H&M and can't remember where I got them; the shirt was from the 1 euro rail in the Animal charity shop in Donegal, but can't remember where the lace top came from. It's because I buy so much from charity shops...
All jewellery charity shopped. My scarf had started to untuck itself here; OH didn't notice and neither did I, till I saw the photo! This scarf is an infinity scarf which folds to be an almost square, so I fold it over into a triangle and then fold it over several times into a rectangle. I've experimented with a 'Rosie the Riveter' head wrap, but need to wait till I have a bit more hair to fill it before I show you as the scarf covers the whole of the head!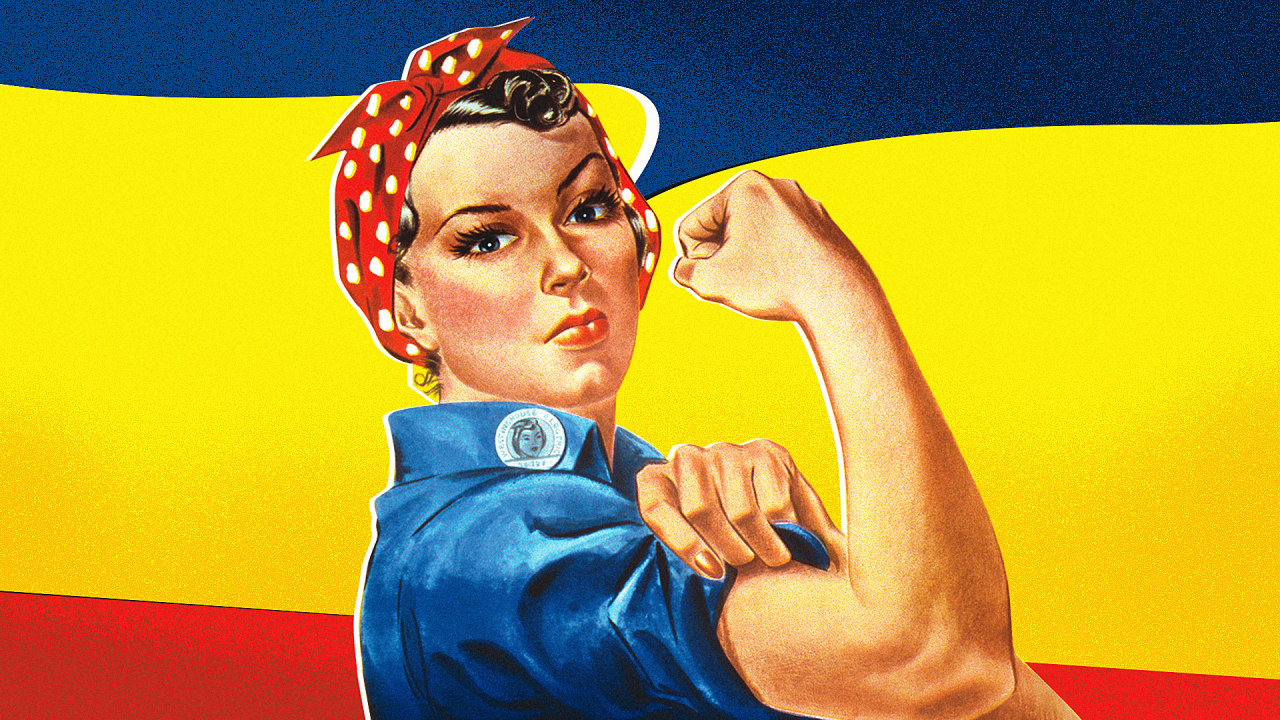 Rosie the Riveter.
Thursday's outfit. Linen top by Wallis 3.99 and trousers by Quiz 2.00; both from my Barnardo's. I'm wearing a sleeveless wool jumper underneath which was from a 1.00 rail somewhere and I tucked it in which I think was a mistake. Shoes charity shopped in Ely; I think.
All jewellery and scarf charity shopped except earrings bought in a Beale's Christmas sale years ago.
I used my bus pass on Thursday and took the bus to Milton Ernest - for free!! Then I walked back to Bedford which came to a total of 10 miles. I still had to do the food shopping when I got back but surprisingly I wasn't feeling tired at all.
All jewellery charity shopped.
It's the Adini skirt again plus the linen top I bought from my Barnardo's for 3.99 before I went away.
Shoes from local PJ shoe shop.